by Brian Mark Griffin
I worked at Bookwalter for a year or so. In hindsight, it was the most consequential job that I have ever had. It was where I met the people that facilitated my transition into a career in real estate, for better or worse. It is where I met Ginger Caldwell, which has given me the opportunity to explore the Tri-Cities with a purpose, and given me a platform to share my thoughts with you right now. I made a few friends that I still have the honor to see regularly.
Bookwalter is also where I developed a taste for wine. This development made waves in my transition into the life of an independent contractor. It gave me an excellent way to connect with clients and associates by discussing our booming wine industry. It gave me an understanding of the way that different varietals pair with certain types of foods. But perhaps most importantly, it gave me the new hobby of fighting alcoholism in a new and exciting way. I'm writing this in a coffee shop at noon because there is a bottle on my counter at home right now. What am I supposed to do? Ignore it?
I have long felt that Bookwalter was home to some of the finest food in town. Hands down, my favorite meal that I have ever had there was a spring evening out on the patio with a flat iron steak with garlic whipped potatoes and chimichurri. I still stop in from time to time to have a wedge salad, partly because it is delicious, and partly because of the way that it is constructed. They take a head of romaine, and stand it up in a pool of buttermilk blue cheese dressing with some bacon and tomatoes and chimichurri. I love a good salad presented in a different way, because they leave some of the work to you. And that really makes you feel like you earned it.
Another thing that I love about Bookwalter is that the wine gets you where you're going a little bit faster than just about anywhere else. If you need to lose a Tuesday, this is your place. After a couple of glasses, I can feel myself descending into the rabbit hole, and single handedly keep Uber in business. I can think of no better way to live large and cut your Sunday short than with brunch and some wine on the back patio at Bookwalter.
Because we skipped church, we started with some donut holes. You have a choice of cinnamon-sugar and honey, or maple glazed with bacon. Or, you can be like us and get both. I think that guilt set in midway through, and we started passing them around the restaurant like we were feeding the multitude on the shores of the Sea of Galilee. It was Sunday after all.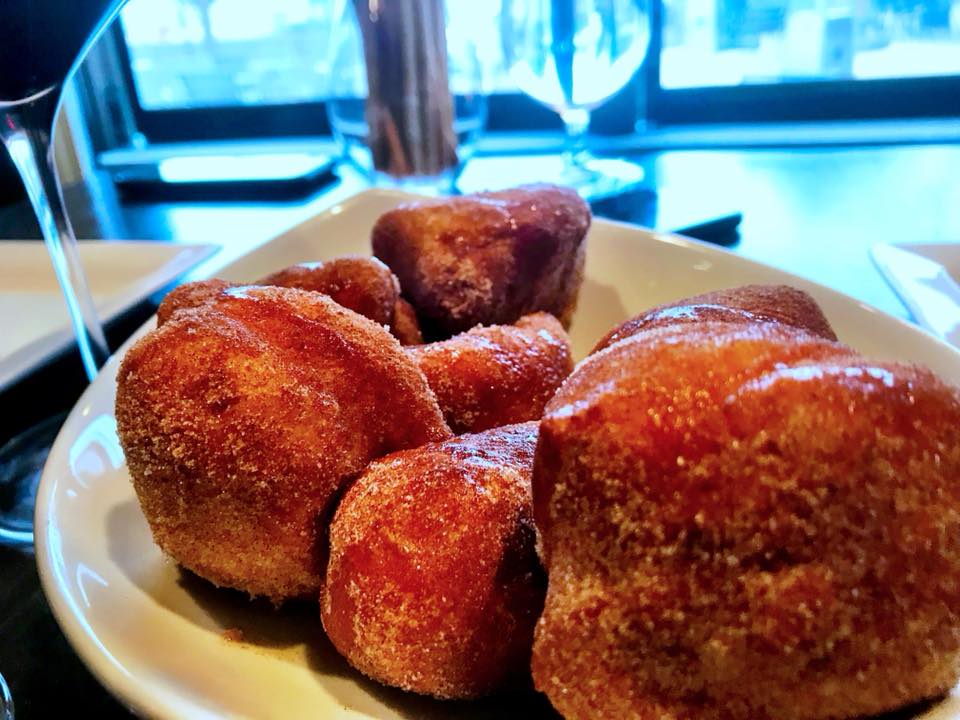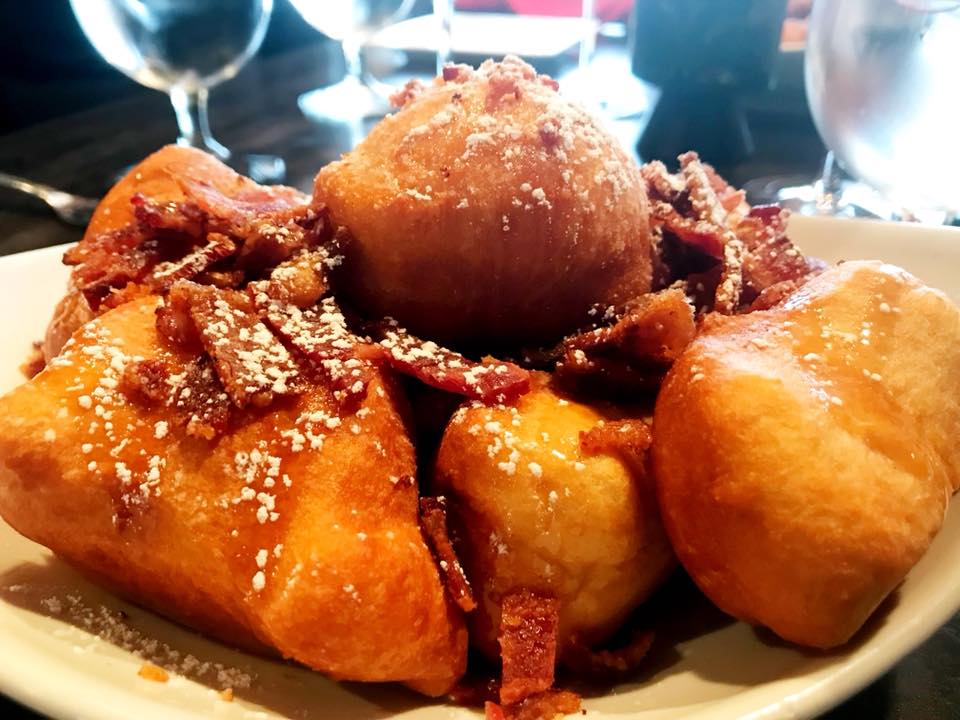 Because of my affinity for all things hash (not that kind of hash) I had to order the Duck Confit Hash. I have only had duck a couple of other times in my life, and they were all at Bookwalter. There is something about putting duck in a dish that always makes me feel like the dish was designed by Mad Libs. The other dish I had was lavender duck, which sounded like a cartoon character, but that cartoon was delicious. I would like to see Sassy Duck, with his partner Cabbage. Cabbage would be a teenaged vegetable that while immature, grounds Sassy Duck with his youthful exuberance while they travel the world fighting food based crime.
Anyway, the hash was pretty good.
Ginger ordered the Red Mountain Eggs Benedict. I know that's not their name, but I refuse to use the word Benny unless it is followed by "and the Jets." Everywhere we go, Ginger finds the Eggs Benedict, and these were excellent. We had a brief discussion with Justin Webb about a pulled pork eggs benedict that Ginger and I both loved at Hill's a year or two back. It was your standard eggs benedict, but with a pulled pork and barbecue sauce that was a phenomenal pairing with the hollandaise, and I would love to be able to go somewhere to get that again. Hill's closed in 2016 after a fire, and it would be an excellent tribute to another Tri-Cities institution to include it on the menu at a place like Bookwalter. Right Justin? …Right?
We also checked out the Huevos Rancheros, with a fried tortilla topped with potatoes, chorizo and two eggs over easy with an excellent pico de gallo. They were outstanding, and truly a breakfast staple with a quality that you would expect from Bookwalter.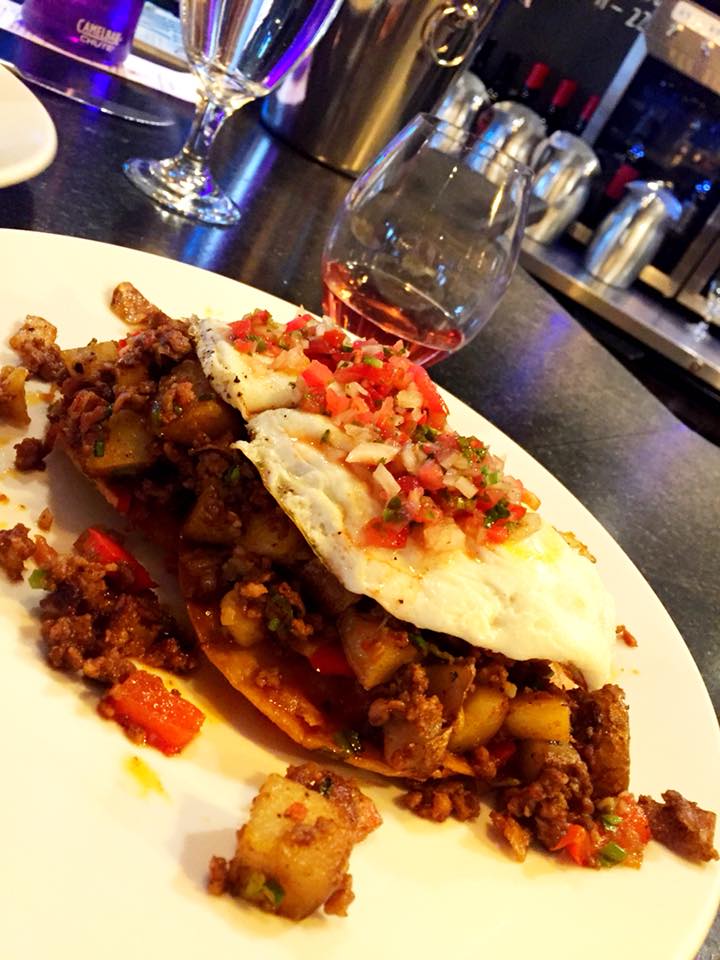 What I truly loved was the Hangover Burger that Zac Mason ordered. Zac and I have had our disagreements, in the past. In all honesty, I can't remember what the problem was, but on this Sunday, we broke burgers and patched it all up. And breaking this burger unleashes a golden yolky goodness upon the Wagyu patty and ham. If you haven't tried it before, there is nothing like egg on a burger, and I have never had a better one than this one. Ask them to throw a hash brown on it too. And then don't eat again for the rest of the day.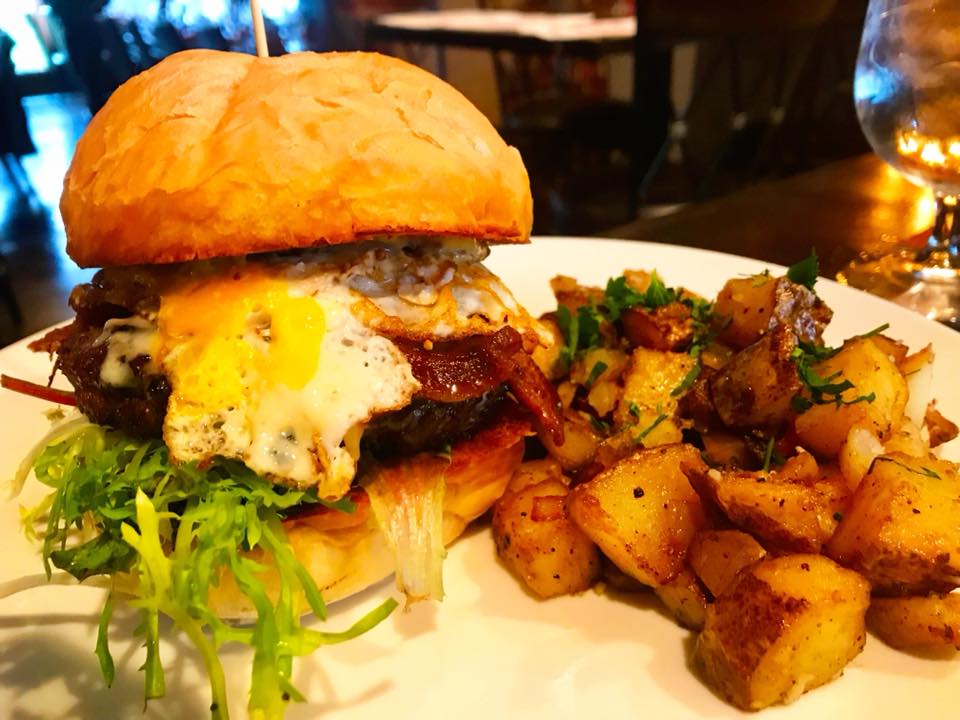 We didn't have any wine that morning. I had things to do for which I needed to be coherent. Though, I can't imagine a better way to spend a summer afternoon with friends than there, having breakfast for lunch with a bottle of Couplet or some Bloody Mary's.
By the way, Uber is available for download on iTunes and the Google Play store. You will need that.
Bookwalter VIBE facts: Brunch is served on Sundays 11am-3pm. All day Sunday rec 1/2 priced bottles of bubbles, bottles of Bookwalter wine (opened in house, not for to-go) & half off wine by the glass pour. Bottomless craft bloody marys are $20 & Bottomless mimosas $18. Their happy hour is 3-6pm 7 days a week w/ half off wines by the glass, 25% off share plates & 10% off craft cocktail menu. They do have a text club text PROTAGONIST to 78816. They also have a tasting studio in Woodinville, WA that text club is text: ANTAGONIST to 78816. They're on UBER Eats if you're craving a delivery w/o the wine.   For those of you visiting Tri Cities J. Bookwalter is a functioning winery as well as full restaurant  named Fiction serving lunch & dinner 7 days a week & brunch thru to dinner on Sundays. Besides wine & beer, Bookwalter has a craft cocktail bar inside serving every day drinks to extremely rare liquors/cocktails. 
Oh, also I'm a real estate agent. Real estate doesn't have to be as expensive as it is. Check out my website at www.homeandharbor.net or shoot me an email at briangriffin@kw.com