There are a couple of interesting things that happen in restaurants when you are introduced as a food blogger. First, you can feel a palpable smugness welling up in the deepest depths of your being. You get this feeling that you are suddenly allowed to physically and verbally go places in the restaurant that are off limits to the bourgeois. To the plebes. You are different. You are better. You have opinions and a laptop.
The other thing that happens is that everyone's eyes roll so hard, they need to lie down for a moment.
A few weeks ago, I was invited to something called Chef's Underground. With a name like that, I didn't know if I needed to keep this invitation on the down low, or if I would be frisked on my way in and out of the door. I wore shoes that were easy to remove and left my wife a note just in case. When I arrived, we all met briefly upstairs in the top secret Castle Event Catering building (located on Williams Boulevard in Richland, just between Jadwin Avenue and Stevens Drive) before we were escorted into the basement. Suddenly, it all made sense. There were chefs, and now we were under ground. These secret dinners are held about twice a year and are to showcase local chefs, their creative culinary skills and Sysco's foodservice quality products available to the restaurant industry. Invite only w/ a different menu executed each time featuring the newest local farmers/products/ingredients. Executing chefs & venue provided by Castle Event Catering & their staff.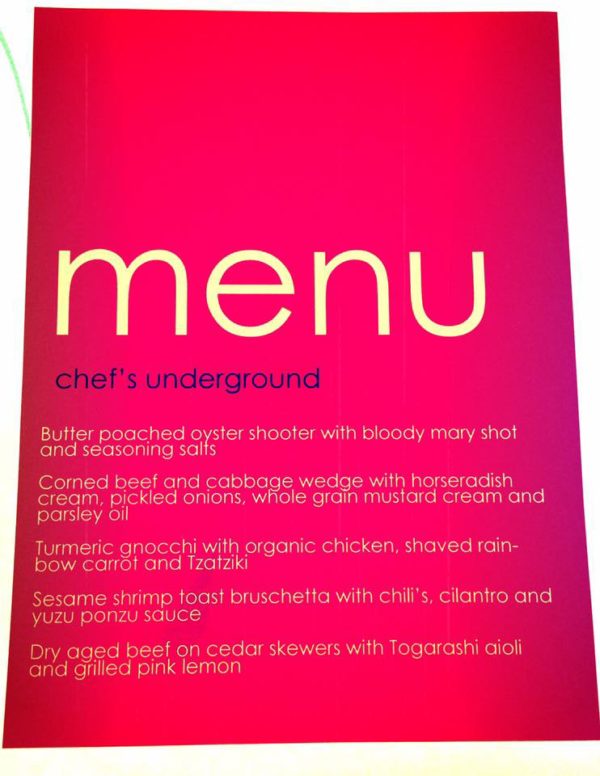 Let's talk about the menu. As I looked over the courses, I could tell that these chefs had put in a little more effort than the previous meal that I had eaten. Earlier that afternoon, I'm pretty sure that I had eaten at Arby's. I forgot to tell them I was a food blogger, and despite this, my beef and cheddar was just fine. That evening, we began our tasting with butter poached oyster shooters with a bloody mary shot served in a syringe dipped in various seasoning salts, which I didn't even see on the menu at lunch.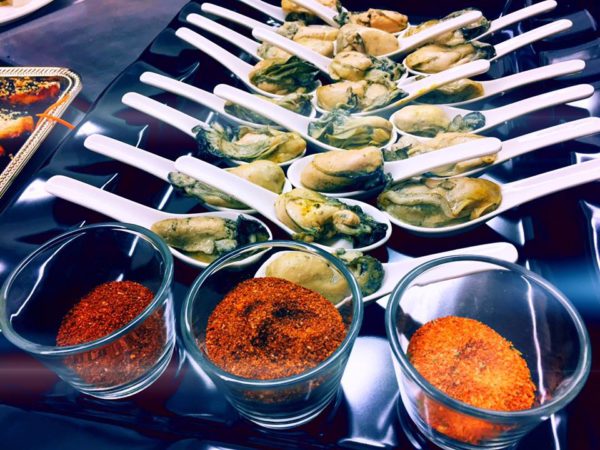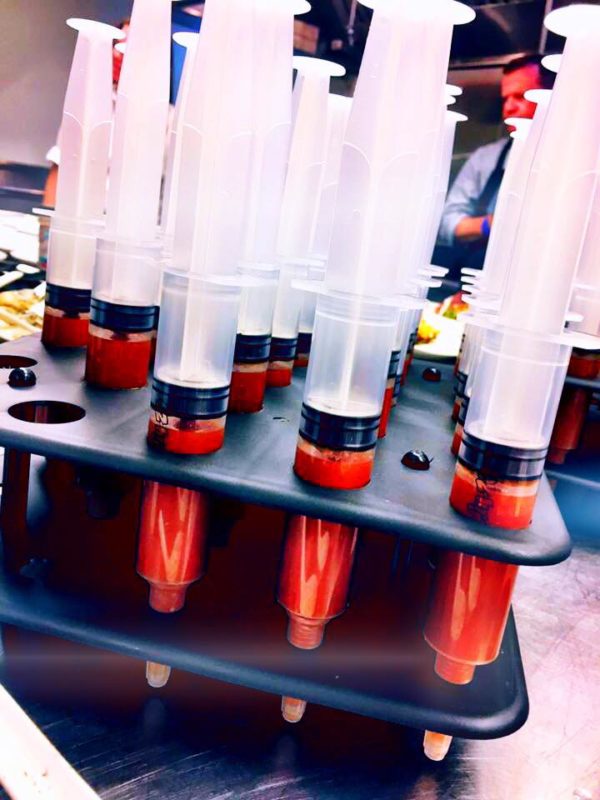 The oysters were followed beautifully by corned beef and cabbage with horseradish (this was on the menu at lunch, but they did call it horsey sauce) with pickled onions, mustard cream and parsley oil. Next was a turmeric gnocchi with chicken tzatziki, and rainbow carrots which are the friendliest looking vegetable I have ever seen.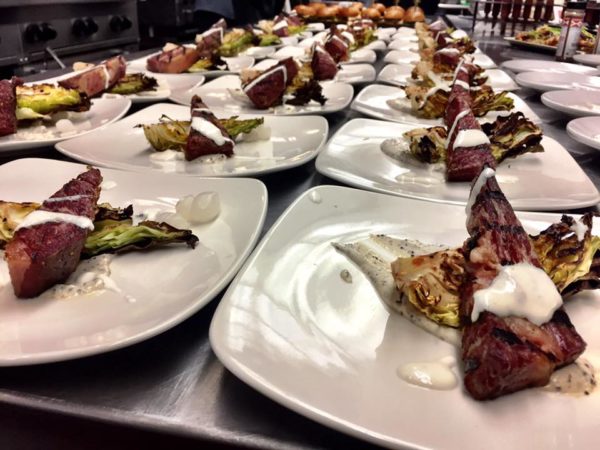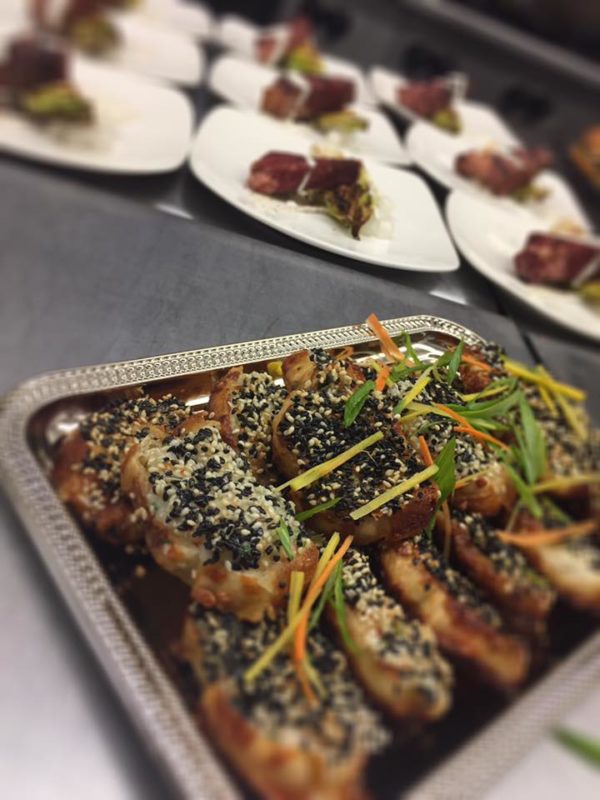 This is where the evening began to take a turn. We were served something called shrimp toast. When I asked what shrimp toast was, I think they began to see that I may not be the food blogger that they had respected just a few moments before. Evidently, shrimp toast is bread that is battered and coated with minced shrimp, and then baked or fried. I should have probably pretended to go to the bathroom and Googled what shrimp toast was, but I voiced my confusion nonetheless. The shrimp toast was served with a ponzu sauce, which sort of a citrus soy sauce. I knew what ponzu sauce was without having to look it up, but what I didn't know is that I had somehow gotten most of it onto my white shirt. The kitchen began to fill with an energy of "who the hell is this idiot" so I had to quickly dial up the ostentatiousness.
The last course listed on the menu was a flat out ridiculous dry aged beef skewer with a togarashi aioli (Googled that one) and grilled pink lemon. It was exquisitely seasoned, and served on a skewer. It was one of the most delicious cuts of beef that I have ever had.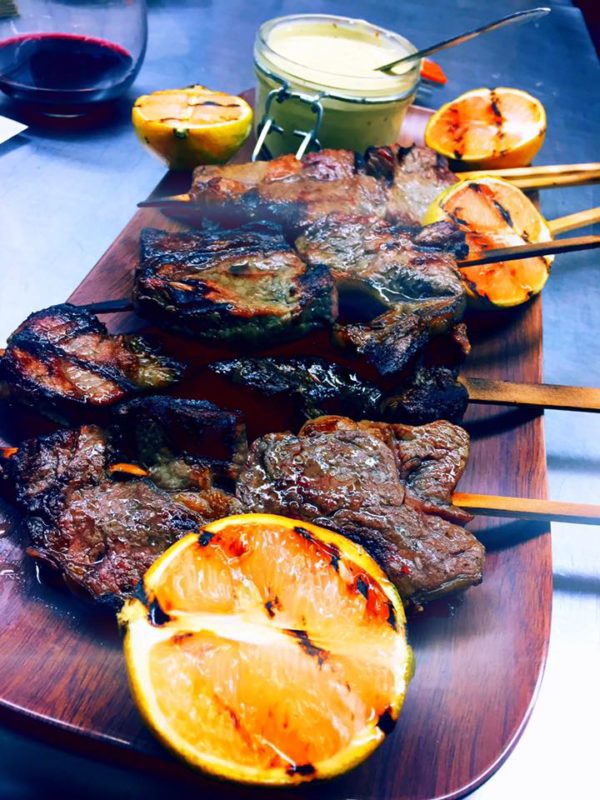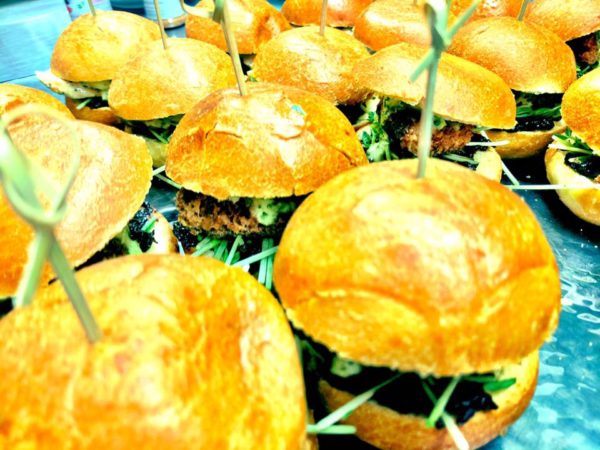 Speaking of meat, before I grab my soapbox, I will warn you that you can go ahead and skip the next paragraph if you aren't here for a rant. There was a final course that was not listed on the menu, and it blew my mind. It was a vegetarian burger called the Beyond Burger.
I am not a vegetarian myself, or even an advocate on way or another, though I think that the debate is one of the most interesting ones facing our world today. In 1981, Peter Singer wrote The Expanding Circle: Ethics, Evolution and Moral Progress. In the book, he offered a philosophy of the expansion of morality over the course of human history. At the center of the circle is ourselves, and our families. The circle expands to our communities or tribes, and over time, expands to include even larger groups in nations, and with the advent of the internet, global communities. In the developed world, our species tends to expand to become more inclusive as the generations carry on, abolishing slavery, and granting women the right to vote for example. Currently, the debate is focused on people of alternative lifestyles. As Martin Luther King once said, "The arc of the moral universe is long, but it bends toward justice." It is possible in the near future that this circle will expand in a generation or two to include animals.
This burger was not just delicious, it was important. Beyond Meat is a company that is attempting to create mass market solutions to replace animal protein with plant protein. Their mission is to positively impact the climate, natural resources and animal welfare. The protein comes from peas, and "bleeds" beet juices.
I know. I know. I love a burger as much as the next guy does. If I were reading someone else's food article where they not only advocated a pea beet burger, but also mentioned Martin Luther King, I am sure that I would feel just like you feel right now. All I can promise you is that while it was not indistinguishable from beef, it was delicious in its own right. If there were a lineup of burgers in front of me, I would have been able to determine by sight alone which one was made from peas and beets. But then again, if I were hungry and locked in a room with a cow, a knife, and a basket of peas and beets, Bessie and I would both be eating just fine. But we would both be hoping somebody brought in some more beets.
In conclusion I have to say that I was blown away by the food & the quality. All the ingredients and prep were done by Sysco's expert chefs. Cooking & final prep was executed by Castle Event Catering's chefs.
by Brian Griffin
By the way, I'm a Realtor, and real estate is the worst. But I do things just a little bit better. Give me a call at 509-551-4141 or check out my website at www.homeandharbor.net